Tiny House Updates
Subscribe to posts
I'm actively gathering ideas for things I want to include in my next build. 
Here's the beginning of that list:
copper string LED lights
This Tiny Vastu Cabin has found a home in Fairfield, Ia. It's located in a young forest oasis in the middle of a corn field. 
Watch the video to  see the house getting lifted by a crane and placed on its new foundation. 
The price for this
Maharishi Vastu
Cabin has been reduced to $28,500! I want to see someone living in this
luxurious tiny cabin
before winter sets in. I have multiple properties where this building could be placed.
SoFair Farms
is a beautiful property just 5 miles from Fairfield with lots available. It's also possible to put the building in
Abundance EcoVillage
as well as a few other locations. Contact me for more details!!!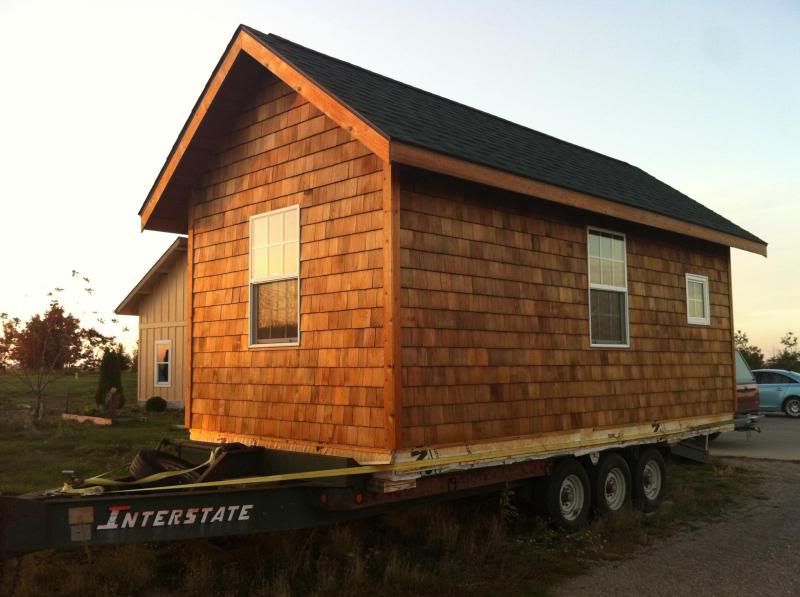 Vastu design
ed 
tiny cabin plans
are available for $300.
You must also enroll your building with Maharishi Vastu.
Please contact them first as I can't sell you the plans before your enrollment. 
Come see the finished product. We'll be showing the our
little cabin
this Saturday, June 2nd
Where: Dome Parking Lot (North of the women's dome)
When: 1-5pm on Saturday, June 2nd 
Hello fellow tiny house lovers!
I must apologize for my silence... I really did expect to post more updates on the construction process. I've feel quite satisfied and fulfilled watching this
Vaastu
Cabin take shape but I've found it's hard to switch gears and come home and blog about it!
We're now 5 week into our estimated 8 week construction phase and I feel we're making good time. The cedar shingles do take longer than anticipated. This style of siding is beautiful but it sure does require patience. It's like a jigsaw puzzle... each piece has to fit perfectly so that no joints overlap. At this point I think we are about 1 week behind schedule... not too bad right?
Here are a few photos of the construction process. For more pictures go to the
Vastu Tiny Cabin
facebook page:
https://www.facebook.com/pages/Vastu-Cabin/298332336893613
We're nearing the end of week one and the building is starting to take shape!! We never did find a good indoor building site so we're building outside. Fortunately the cabin is small enough that we take the work inside when the weather is bad. Today there was snow on the ground so we framed up the south and north walls inside the garage. Once the weather improves we'll carry the walls outside and stand them up on the floor of this
teeny tiny home
!
Go to
the Vastu
Cabin facebook page to see construction photos.
https://www.facebook.com/pages/Vastu-Cabin/298332336893613
We're just days away from beginning construction. I'm working with Fortune Creating Buildings to finalize the building plans so that they fulfill all the Maharishi
Vastu
requirements. I will be ordering most of the construction materials in the next couple days. Now all I need is an indoor location to build! Any suggestions?